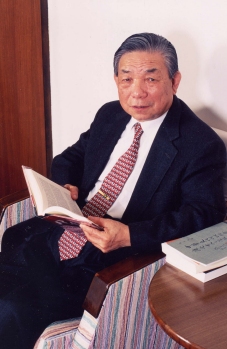 Oral history is a method of gathering and preserving historical information through recorded interviews with participants in past events and ways of life. It is both the oldest type of historical inquiry, predating the written word, and one of the most modern, initiated with tape recorders in the 1940s. With these modern tools, we can record and preserve peopleís experiences of the recent past for present researches and future understanding of our history. The establishment of the Columbia University Oral History Research Office in 1948 marked the beginning of the modern era.
Prof. Te-Kong Tong, founder of the Society of Oral History of Modern China, is one of the pioneers of oral history in the modern era. His book, The Memoirs of Li Tsung-jen(1), has been considered by many as a classic.
Professor Tong was born in 1920 to a well to do family in the Anhui province of China. He graduated in 1943 from the History Department of the National Central University (now the Nanjing University), which moved from Nanjing to Chongqing, Sichuan during the WWII. After becoming a teacher in his home province Anhui for a number of years, he came to the United States in 1948 to pursue his graduate study in history at the Columbia University.
Because many high level officials of the Chinese Nationalist Government lived in the New York metropolitan area after the civil war in the late 40ís, Prof. C. Martin Wilbur of Columbia established the Chinese Oral History Project in1957. Tong was an active participant of this project. His researches and interviews would result in many books later, including The Memoirs of V. K. Wellington Koo(2), The Memoirs of Hu Shih(3), and the forth mentioned The Memoirs of Li Tsung-jen.
After getting his Ph. D in 1959, Tong remained in Columbia as a researcher, a teacher and the director of the Chinese Section of the East Asian Library. In 1972, Tong joined The City College of New York as professor of Chinese and Asian history and held the Chairmanship of the Department of Asian Studies for 12 years. He had been with the City College until his retirement in 1991. Professor Tong is a prolific writer. His many essays and articles have been published in newspapers or magazines all over China, Taiwan, Hong Kong and the US.
Li Tsung-jen was a famous general and the Vice President and Acting President of the Nationalist Government during the Chinese civil war.
Wellington Koo was a well-known Chinese diplomat.
Hu Shih was a famous scholar and a former Chinese ambassador to the US.
Books by Prof. Tong: